Job Outlook For CNAs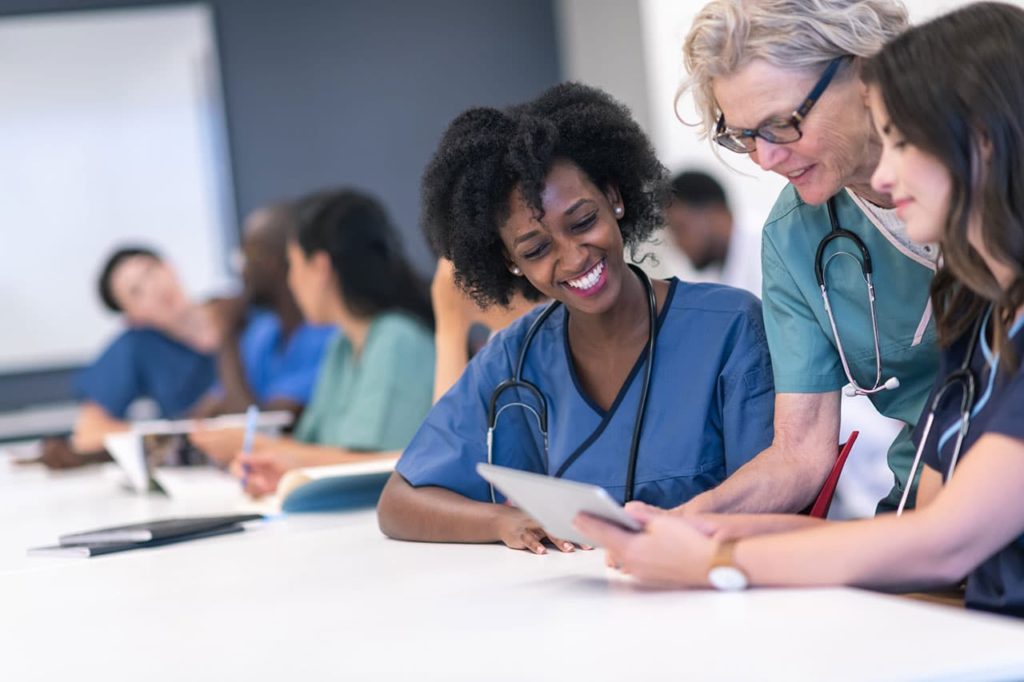 If you're thinking about getting into health care as a career, now is a great time to become a Certified Nursing Assistant (CNA). CNA training usually takes four to six weeks, and you could be working as soon as you pass the CNA exam for your state. More than half of the top twenty fastest growing occupations in the U.S. are healthcare related. Certified Nursing Assistants (CNAs) are an integral part of caring for the most vulnerable. The job is emotionally rewarding and offers a variety of opportunities in multiple sectors from rural private clinics to major hospitals in large cities. CNAs provide basic care for people who are in need due to accident, age, or medical condition. Common job responsibilities include taking and recording vitals, helping with daily living activities, and keeping the patient's room healthy and clean.
Demand for CNAs Is Expected to Grow
Opportunities for CNAs are expected to grow over the next ten years. The U.S Bureau of Labor Statistics tells us that "employment of nursing assistants is projected to grow 9 percent from 2018 to 2028, faster than the average for all occupations." There are many factors that contribute to the increasing demand for CNAs across the country including retirement, job turnover, and patient-driven changes in healthcare.
Retirement of the baby boomer generation is the number one factor for the increasing demand for CNAs over the next decade. Currently, only about 13% of Americans are over age 65, but that number is higher than it was a decade ago. On average, 10,000 baby boomers reach the age of 65 every day. That trend will continue until 2030 when 18% of Americans will be over 65. As baby boomers age, there is an increasing need for nursing assistants in all sectors across the nation. 
CNA positions are physically and emotionally demanding. Some job turnover is expected as nursing assistants choose other job opportunities, or leave healthcare due to their own retirement or pursuit of other career paths. These factors add to the demand for new nursing assistants annually.
In recent years there has been a growing trend towards specialized clinical home health care to keep patients out of hospitals and skilled nursing facilities longer. This trend is driven largely by patients and their families, but gained more traction within the health industry recently. We expect to see home care services shift to hiring more CNAs over home health aides as the baby boomer generation's health care needs increase. Home health aides cannot provide the same level of nursing care that a CNA can. Hiring CNAs will allow more patients to remain at home longer while receiving the care they need.
Bright Outlook Opportunities for CNAs
Several sectors are expected to increase the number of CNAs, particularly those with Nurse Delegation certification. Shifting trends in healthcare have created new jobs for CNAs. Washington State, for example, allows delegating nurses to supervise CNAs to perform patient care tasks that would otherwise need to be performed by the RN. Care facilities, home care, medical offices and centers are expected to have a higher demand for certified nursing assistants over the next decade. This creates opportunities for CNAs who want a challenge. The highest increase in job opportunities is expected in retirement communities and assisted living facilities, but a CNA can pursue a wide range of rewarding special interest work experiences. Specialization opportunities for CNAs includes working in areas such as dementia, physical therapy, pediatrics, mental health, cardiology, and neurology. 
Whatever sector a CNA works in, there will be networking opportunities. Connecting with nurses and other health providers is a great way to get information to explore possible paths for future employment. Gaining experience as a CNA may open a pathway that leads to additional education in varying specialization options. 
One of the challenges when looking for work as a nursing assistant can be that not all job titles are for "CNA" or some form of "nursing assistant." Senior Patient Care Technician, Patient Care Assistant (Part-Time), and Nursing Assistant Certified (NAC) are all examples of alternative job titles for CNA. Nursing Assistant Certified is the CNA equivalent job title in Washington State. 
Income for Washington and Oregon nursing assistants is above the national average. Both states are expecting an increase in job opportunities for CNAs at a statewide level. Since certification is similar in most states, CNAs can find work easily if they need to move to another state. CNAs will always be in demand, and demand is expected to grow for the foreseeable future. Even in a failing economy, CNAs have job security. As the growing demand for CNAs increases over the next decade, CNAs can look forward to better benefits.
High Demand for CNAs Means Better Benefits
Because CNAs are in high demand, there are more choices for employment with better benefits. Some nursing assistants prefer to work with the same patients over a span of time, and would prefer to work in long-term or hospice care. Other CNAs prefer the quick pace of clinic care. Because of the current high demand for CNAs, there are openings in most sectors in Vancouver and Portland. Having the freedom to choose where to apply is a great benefit, but it is not the only choice to be made. A CNA can choose to apply for a position that is the best fit for their preferences for their lifestyle as well.
Part or full-time

Day, evening, or night shift

Flexible hours or set schedule
Competing healthcare companies are offering benefits that were not available in previous years in the hope of attracting CNAs to fill their job openings. Most employers offer medical, dental and vision benefits. Some companies in our area are offering retirement options as early as the first day. A few even offer a sign-on bonus that will cover the cost of CNA courses. Generous sick leave and vacation days are also common perks for local CNA opportunities.
Get Started Becoming a CNA Today
Working with the injured, ill, and aged gives any CNA opportunities to make a difference in the lives of patients and their families. You could have a career as a CNA in as few as four weeks. Northwest NAC Training offers CNA classes at our training center in Vancouver, Washington. Our nursing assistant programs prepare you for the NAC/CNA exam. Our training center is a Washington State Certified exam site. You will take the CNA state test in the same place you take classes. Apply today to start your CNA career in Clark County, Washington, or the Greater Portland, Oregon area. Our professional staff will help you get enrolled in the earliest available CNA classes when you give us a call at (360) 882-0101.