Save Lives with CPR Certification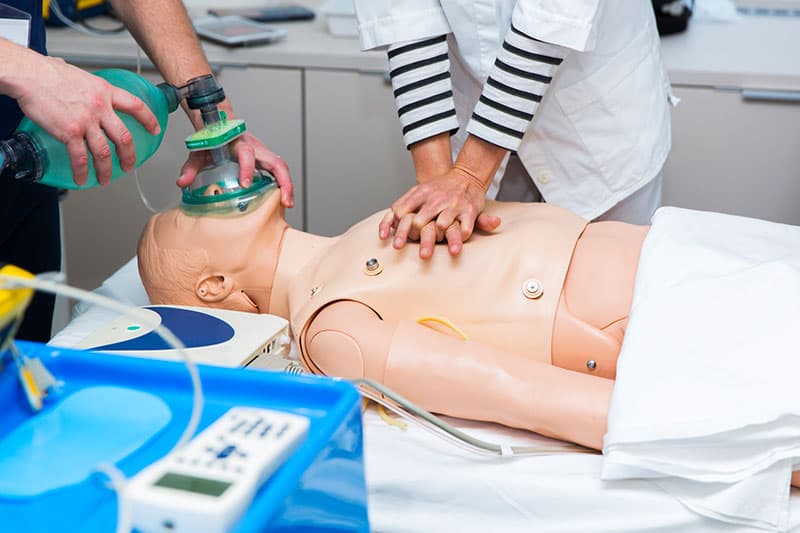 There are a number of skills required of being a certified nursing assistant (CNA), and one of those checkboxes is knowing CPR, or cardiopulmonary resuscitation. But of all the skills taught to future CNAs, CPR reigns as one of the most important. While earning your American Heart Association CPR certification is required to work in a hospital setting, CPR carries with it immense uses. 
ABCs of First Aid
One of the early lessons taught in medicine is the ABCs of First Aid. In this instance, ABC is an acronym for the three most vital things to remember in a situation where you're rendering first aid and all of them can be achieved through CPR. A stands for airway, meaning you should check for any obstructions in a person's airway and help open it as much as you can. B stands for breathing, meaning you should check for signs that the person is breathing. C stands for circulation and compression, meaning if a person isn't breathing, chest compressions are vital to restoring blood circulation to the body. 
Prevent Deadly Outcomes
As a CNA, you'll spend more time with your patients than other medical professionals, which means you'll be one of the first people present in the event of an emergency. According to the Centers for Disease Control, the leading cause of death in the United States is heart disease. The emergency associated with this type of death is cardiac arrest and knowing CPR can save the life of someone experiencing cardiac arrest. In addition to preventing the detrimental effects of cardiac arrest, CPR can also help prevent brain death. Between four to six minutes after a heart stops beating, brain death occurs. However, if CPR is promptly performed on a patient, it keeps blood flowing throughout the body – delivering oxygen to the brain. Both of these instances are examples of why it is so important that a CNA is properly trained in CPR. 
Families Feel Assured
Knowing that your loved one is in good, capable hands is one of the best feelings you can give to the families of your patients. By obtaining and maintaining your CPR certification, you're giving not only your patients peace of mind that you'll be able to help them when they need it most, but their loved ones, too, will take comfort in knowing you have the skills necessary to address any problem that arises.
Valuable Life Skill
In addition to being able to help your patients through an emergency, knowing CPR is a skill you can take with you into other aspects of your life. Should you ever encounter someone in need of first aid outside of the hospital or clinical setting, you will be able to step in and perform what could end up being life-saving action. Emergencies occur at any time of day and in any location, so it's easy to imagine a scenario where you find yourself being called upon to help someone in distress. Should that moment ever come, you'll be thankful for your CPR knowledge.
Learn more on how you can start a rewarding CNA career with the help of Northwest NAC Training by calling us at 360-882-0101