Using your CNA Skills as a Home Health Aide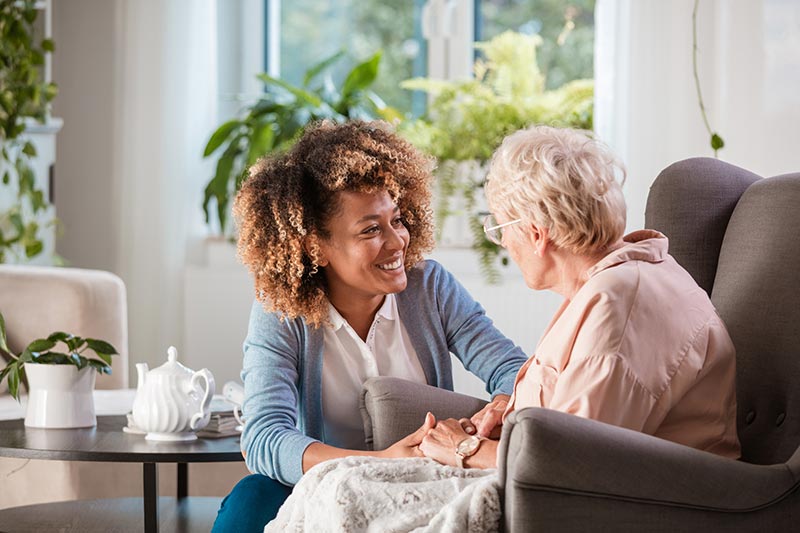 Once you've taken the classes, completed the clinical hours, and passed the exam, gaining the title of a certified nursing assistant (CNA) opens doors to numerous roles in health care. These opportunities include jobs in hospitals, nursing homes and skilled nursing facilities, to name a few. But one of the settings that is often overlooked is inside your patients' homes. Becoming a home health aide is a rewarding line of work, one that is worthy of consideration. Here's why.
Avoids unnecessary hospital visits
While hospitals are often the most common places that CNAs consider working, take a moment to think about how stale and stressful hospitals can be. Home health aides not only help relieve these systems by caring for patients in situations where they are best treated from the comfort of their home. They also improves the quality of life for your patients by treating them in a space that maximizes their comfort, autonomy, and relief – things that many in this line of work brings them pride and joy. 
What does a home health aide do?
Though these roles are also called personal care, companion care or assistive care, they all generally breakdown to the same duties. As a home health aide, you'll take vital signs, administer treatment, monitor oxygen supply and other equipment and update health records. In this role, you'll also help patients with everyday activities such as bathing, dressing, eating and household activities such as cleaning, shopping and any errands that a patient needs. 
The right qualities for the job
As with every CNA role, you'll learn that different jobs are best for those with different personality attributes. Being a home health aide is no different. This job requires you to be caring and compassionate toward your patients, as you'll spend regular time with and likely develop a relationship with each of them. You must be empathetic to their needs, respect them, and be understanding of their circumstance. Remember, you're seeing someone inside their home, which is a privileged place to be treating a patient. Home health aide positions also require a higher attention to detail and protocol, since you'll often be working on your own and will be the first to notice warning signs for larger problems that are brewing. In the same vein, they also need to be good communicators, as they'll need to learn to properly understand and advocate for their patients and relay any change in condition to their treating physician. 
A rewarding choice
Because you're working in an intimate setting, one where you have the opportunity to get to know your patients on a deep level, you stand to have a much more rewarding career than if you were to work inside a hospital, clinic or outpatient facility. Glancing pictures that hang on the wall, being present for family stopping by and treating your patient when they're in their most comfortable space allows for experiences that are unlike to happen in any other CNA role. You'll get to know their family and friends and can become a trusted ally in a network of people working to support your patient. All of this is a deeply rewarding career path that many decide never to leave. 
As a CNA, you have already done the hard work to open the door to a variety of job opportunities within healthcare. However, make sure you fully consider a role as a home health aide. You might come to find that it satisfies many of the reasons you got into this field in the first place – and even adds on some new reasons.  
Learn more on how you can start a rewarding CNA career with the help of Northwest NAC Training by calling us at 360-882-0101